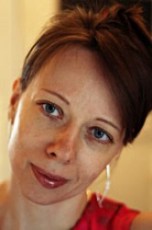 Wir freuen uns, dass wir dieses Jahr das Global Fellowship Programm der jährlich in Meissen stattfindenden "Summer School on Internet Governance" unterstützen konnten. Erfahren Sie mehr über unseren Fellow Sylwia Rudnik aus Polen, die im Bereich Forschung & Entwicklung im "Laboratory of Interactive Technologies" an der Universität Warschau tätig ist. Ihr Originalbeitrag ist auf Englisch.
Please introduce yourself Sylwia, and say a few words about your professional background.
Sylwia Rudnik: "I am a social psychologist, human-computer interaction, usability and user experience researcher and a graduate of Warsaw School of Social Sciences and Humanities, since ever interested in computer-mediated versus face-to-face communication aspects. I am Working at the Laboratory of Interactive Technologies, Information Processing Institute (research and development unit).
I worked for 7 years for one of the first ISPs (Internet Service Provider) in Poland, Internet for Schools IdS (NGO type), where I learned about the basics of the Internet, took part in technical trainings in order to be able to provide end users with professional assistance and technical advice. It was my first job, which at the same time I shared with my duties of the Assistant to the Secretary General of Central Eastern and European Networking Associations (CEENet), where I coorganized workshops and trainings on ICT issues and Networking Policy for participants of 26 member countries. CEENet was, and still is, a network of National Research and Educational Networking institutions of Central and Eastern Europe and partially Asia these days.
Over the years I took part in a series of international ICT, e-learning and localization projects as a tutor, organizer and leader. I organized ICT conferences and workshops in Central and Eastern Europe, as well as in Asia. I volunteered to help in organization of big international conferences, where number of participants was up to 2000 (ICANN and INET – Stockholm, 2001; APRICOT – Kyoto, 2005). I have always worked in ICT international, multicultural and multilingual settings, which I like and find very interesting.
Since 2000 I am the founding and active member of ISOC Poland Chapter of the Internet Society. I have always felt and still have a strong bond with NGO, both Polish and international organizations."
What motivated you to join the summer schooll on internet governance in Meissen (Euro-SIGG)?
Sylwia Rudnik: "I have been observing the political scene in Poland and how the development of the Internet is the major reason for the new legislation. Also how the new regulations are being introduced to the general public. My motivation was simple – I wanted to learn about all the stakeholders that are involved in internet governance, what they roles are and what their tasks could be, so that the process is beneficial to all its parties, and what it takes to lead the process in a smooth and successful atmosphere of communication."
Which are, according to your personal opinion, todays most important global challenges with regard to internet governance?
Sylwia Rudnik: "I think that the most important issues the future of the Internet Governance will face is privacy, big data handling, cybersecurity, intellectual property and questions faced by governments whether to keep the internet open and free or closed and censored."
Seize the Internet
"Also, it is clear to me that the technology itself is developing far too fast in comparison with the models of how to govern it and that laws or regulations should be amended to reflect the Internet's reality. So the picture however big it is, can be described as: a very controllable and organized structure makes all the possible effort to seize this mischievous and uncontrollable thing, the Internet."
What governments do with the Internet should be our interest
"At Euro-SSIG I noted from the opinions of the students that civil society does not pay much attention to how the Internet is being governed by their respective country government officials and politicians. Therefore I find it a real challenge for our global civil society: to have a keen eye on ITU, WCIT and ITRs, and how governments are trying to "take control" over critical Internet resources.
Since I believe in the interoperable and open Internet, and not in the one that is heavily monitored, restricted and filtered network, that hurts "Freedom of Expression", that summer school rose my interest in how the Internet is really governed, and that it was invented and grew from a strong technical community, that wanted it to be free back then, and that wants it to be as such today.
I will put strong efforts in making it clear in my communities in Poland and Warsaw, that what governments all over the world do with the Internet, should be transparent, and consulted with the civil society."
You are actively involved in ISOC Poland. Which internet related issues are currently most intensively discussed in Poland?
ACTA
Sylwia Rudnik: "From the beginning of the year, and even now, ACTA (Anti-Counterfeiting Trade Agreement) has gotten the biggest attention, both, from the government and from public opinion representatives' sites. Because it was the most important bill being introduced and negotiated not openly with the European Commission, with the representatives of the civil society, and thus being perceived by the latter as Americano-centric law being forced by the US private sector representatives. Starting from January this year, the situation was developing very fast and Poland happened to be the "cradle" of anti-ACTA protests all over the Europe. Here is a small note about it, which I wrote for ISOC Poland's website."
Intellectual Property Rights Law
"In reference with ACTA, the second biggest issue in Poland these days is intellectual property rights law, which includes also copyrights, patents and trademarks issues. The mentioned above laws are being discussed at the moment in working groups, which were created in response to the protests and anti-ACTA events, and to enhance negotiations/consultations with civil society (represented mainly by ngo organizations) and introduction of the new legislation to the general public.
One more, and not the last one topic these days in Poland is the new telecommunications law, and its net neutrality issues."
Which are the central "lessons learned" for you to take home from this summer school experience?
a) It takes time!
Sylwia Rudnik: "Euro-SSIG School concentrated very much on the multistakeholder model, and how it should work to make the Internet Governance a more successful process. After these six days of  very intense discussions – which we, as students, were also invited to – I can see how important it is, that every single party interested in the process should be given the floor and a say, to be able to articulate their expectations, fears or just to give an expertise. These processes take time, and – as I can tell by now – all the parties have been learning how to talk, and how to listen to one another, in order to make the internet ecosystem a more friendly and safe environment for each other.
As from the students' presentations I can clearly see how many of the countries represented by us are at the very beginning of the process, so that we – as alumni – are being expected to first creating initiating groups in our countries, to spread the word about IGF (Internet Governance Forum), about the multistakeholder model, so that we can start the process of changes just like it started 17 years ago in Brazil, which is a fast developing country at the moment."
b) Internet and internet technologies are the KEY to development
"It has become clear to me after the Euro-SSIG School that it is only thanks to the internet that country's economies can develop, because the internet is the basic source of information. Even though not many countries are equipped in it, and still struggle to provide it to the majority of their citizens, the internet is being perceived as one of the basic means of expression, and freedom of expression – next to it – is one of the basic human rights."
c) It needs a wide and open dialog to fulfill the internet's fathers mission
"Gatherings like this Euro-SSIG School which were 5 days of intensive training let me see the bigger picture of "where we come from and where we're going to". From the very first days of the internet's existence it was supposed to be a tool – a perfect one – for people to communicate. Since these days there are more and more actors and parties interested in its governance, this process needs to be supported by wise people and a wisely led dialog, so that the mission of the internet's fathers will not be jeopardized."
d) We are the next generation
"Euro-SSIG is one of the very few educational environments for the leaders of the future. During the networking hours we had this opportunity to share and learn from the faculty members how to become leaders in our communities and countries. Therefore we have to continue what we do and with the use of knowledge and support of the faculty members and our alumni network, establish and become points of reference for internet governance in our countries."
My appreciation to Hostserver.de
"I would like to express my sincere appreciation to Hostserver.de, for sponsoring my educational fellowship at Euro-SSIG.
Dear Hostserver, you made it possible for me! Thank you! : )"